In 2018 Microsoft announced that two new datacenters would be available in Norway, one in Stavanger region and a second one in Oslo. The new datacenters in Norway enables Microsoft to meet increasing demands of the cloud and customers to innovate through the use of intelligent cloud services. Further, through migrating to the cloud, organizations are able to meet security, data residency and compliance standards, instead of in investing in local infrastructure and being responsible of these themselves. However, walking you through all the advantages of the cloud such as availability, scalability and elasticity etc, is another topic we at Accigo could (and would love to) discuss with you for hours. However, in this post, we will continue by focusing on the opportunities of the new datacenters for Norwegian organizations in terms of legal requirements and standards and the possibilities the Azure services enables for when available in Norway.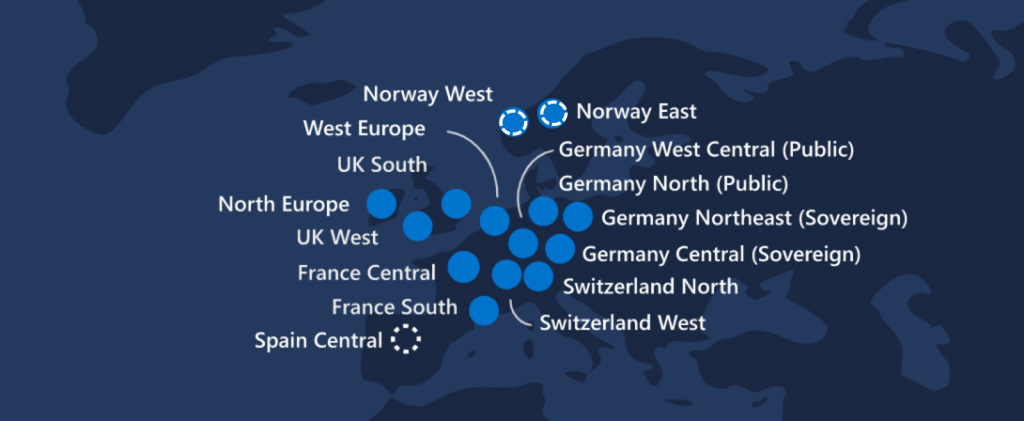 Source:
https://azure.microsoft.com/sv-se/global-infrastructure/regions/
Definition of cloud services, regions and high availability
Azure is Microsoft Cloud service, and as other cloud services it is contradictory to its name, not an intangible storage located in the atmosphere. Instead, Azure consists of physical datacenters that are the actual devices processing and storing data. These data centers are divided in regions, which are a set of data centers connected through a dedicated regional low-latency network. Moreover, through the use of Availability Zones, consisting of physically separated locations with one or more dedicated data centers within an Azure region (provided with independent power, cooling and networking) customers are able to deploy apps with high availability and low-latency replication.
What difference does the new datacenters in Norway make?
To start with data resiliency is an aspect which is impacted by the datacenters being closer by Norwegian organizations who chooses to migrate to Azure, as shorter distance results in faster data transfers. Another aspect which affects Norwegian organizations is legal requirements of storing data on servers located within Norway. With the Azure datacenters now available in Norway, the possibility of using Microsoft's cloud services are increased as the legal requirements concerning storage have been an aspect which has made the use of cloud services more difficult earlier. Lastly, Microsoft being one of the biggest cloud providers and also one of the first to invest in Scandinavia the future of investments in cloud computing in Scandinavia is looking bright in terms of opening up for more products, as Office365 and Dynamics365 (Microsofts ERP-system) is available in Norway during 2020.
As a Scandinavian Microsoft partner who is passionate about Azure's cloud services and the opportunities it enables for, we at Accigo are looking forward to see more Norwegian organizations being able to follow the footsteps of DNB, Lånekassan and Equinor who have already begun their journey towards Microsoft Azure.